Roofing Company Dún Laoghaire
Get a free estimate for repairing or replacing your roof in Dún Laoghaire. Our roofing services include roof repairs, felt roofing, chimney repairs, Dry verge installations, gutter repairs and more.
Roofing Contractors Dún Laoghaire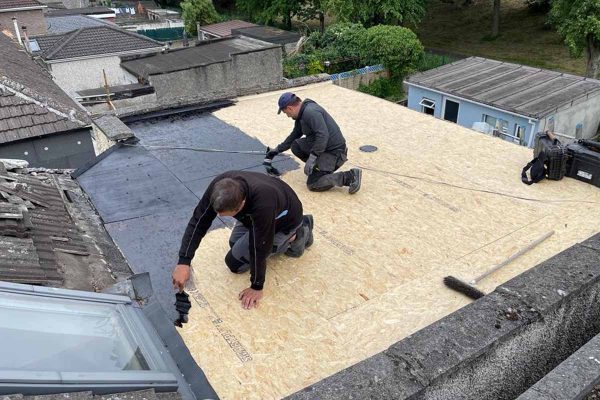 Our roofing contractors provide an extensive repair and replacement service for rooflines in Dún Laoghaire with options for roof repairs, re-roofing, felt roofs, chimney repairs, dry verges, ridge tiling and more to choose from.
We provide a fast response time for emergency roof repairs, fixing leaking gutters, identifying roof leaks or replacing storm-damaged sections on your roof.
Our services include:
Roof Repair Dún Laoghaire: Our team provides a comprehensive roofing repair service if your roof is damaged or leaking. We can identify the source of the problem and provide a solution that will keep your roof functioning properly.
Roof Replacement Dún Laoghaire: Our team can provide full roof replacement services if your roof is beyond repair. We offer a range of roofing materials, including tile, slate, asphalt, and metal, and can help you select the right option for your property.
Roof Installation Dún Laoghaire: Our team can provide reliable roof installation services if you're building a new property. We can work with you to select the right type of roof for your property and ensure it is installed properly.
Guttering Dún Laoghaire: We also offer various uPVC guttering services, including gutter repair, replacement, and installation. Gutters are crucial in directing water away from your property and preventing water damage.
Fascias and Soffits: We offer various facia and soffit services to protect your roof and function properly. These components protect your roof and direct water away from your property.
We have years of experience in the roofing trade and can provide reliable and efficient service for all of your roofing needs. We also use only the best materials and equipment to ensure that your roofing project is done right the first time.
Roofing Services Dún Laoghaire
Our roofing services in Dún Laoghaire cover domestic roofing, commercial roofing and flat roofs. No matter what type of roof you have, you can be sure of the finest quality work from a committed, skilled team of professionals. Our roofers in Dún Laoghaire also handle roof repairs for all property types.
If you would like to know more about our roofing services in Dún Laoghaire, please feel free to get in touch today. Whether you need large-scale roofing work or minor roof repairs, we have everything required to ensure you get the best possible solution.
To learn more or to get a free estimate from our roofers in Dún Laoghaire, call 01 687 5099. We would love to hear from you.